[The form of the hole of the ear]
it became frequent, for the form of the ear to become a main topic.
At leat, (on my blog, the subject about the position of the ear for example...) but discussions about the hearhole ?
there aren't so much I think.
what I mean to say is, there was recently I've been troubled by circumstance on the ear monitor.
I asked to make an ear monitor you see.
Today was the day I had to take the mesure on the form of my earhole and.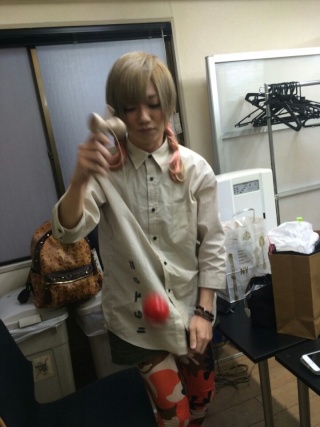 ↑This has nothing to do with the subject but, the sudden me playing with the Kendama* (*cup and ball game) (๑•᎑•๑) Is everyone strong at Kendama ?
"You're earhole is completely straight !" they praised me ヽ(=´▽`=)ノ (There maybe wasn't any admirationin this, moreover, except from the outside it can't be seen)
I was not aware about the fact that every people have an hearhole in a different shape from each other ! ...
but, thinking on it with calm there is a certain amount of songs when it sounds strongly grinding at the opposite is it useful when you have to swim...